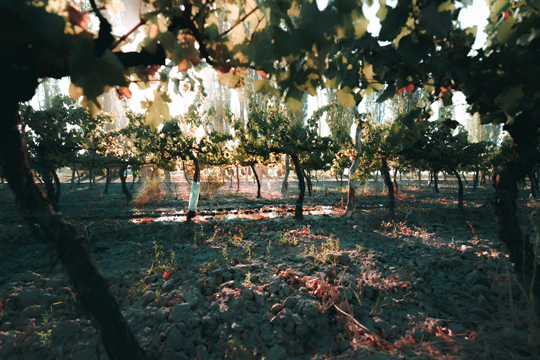 Vineyard
Bodega Araujo plantations are located in Villa Atuel, San Rafael, Mendoza - Argentina, where we have 100 hectares of vines distributed in 2 estates, with 80% red grapes, (Malbec, Cabernet Sauvignon, Tempranillo, Bonarda, Merlot and Syrah), and the other 20% white grapes (Chardonnay and Sauvignon Blanc), structured the oldest in vine arbors and the youngest in trellis.
In Bodega Araujo, irrigation is carried out in the traditional system, by gravity irrigation, with water from the Atuel River, rich in minerals which it obtains from the Andean glaciers. The soil is of alluvial origin, created by material deposited in the meanders of the Atuel River, which gives us a varied composition: from stony to sandy, with very good permeability and poor in organic matter, which allows an excellent vegetative expression of the vine cultivation to make our Casa Araujo wines.
The climate in Villa Atuel, as in most of the Cuyana region, is semi-desert, with an altitude of 520 m.a.s.l., few rains, low relative humidity, a high thermal amplitude between the heat of the day and the cold nights, and very good heliophany (exposure to light), which guarantees ideal conditions to achieve ideal harvests of healthy grapes to make our products. These natural characteristics, known in the wine jargon as Terroir or Terroño (in Spanish), together with the talent of our people, are essential in order to make harmonic and expressive wines such as our Casa Araujo wines.